DRESSING MIRROR ON EASEL
Handmade to perfection with forged leaves and vines. The nest on this one is AMAZING!
With 2 lights this piece would be great at the end of a hallway or perfect in a powder room.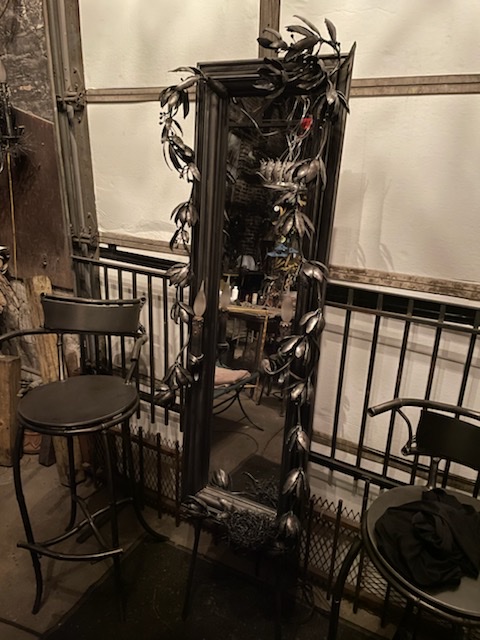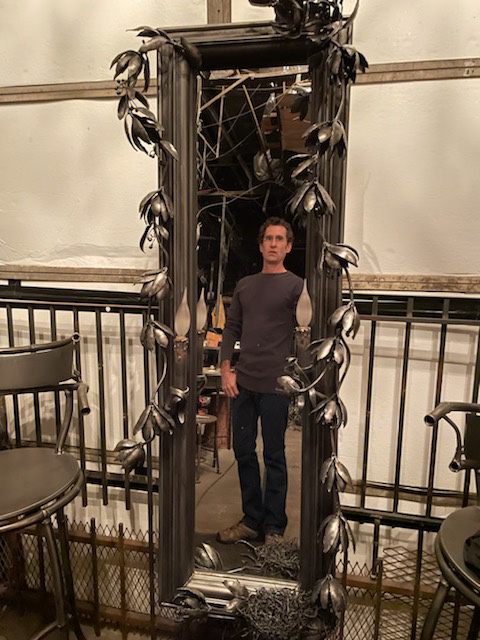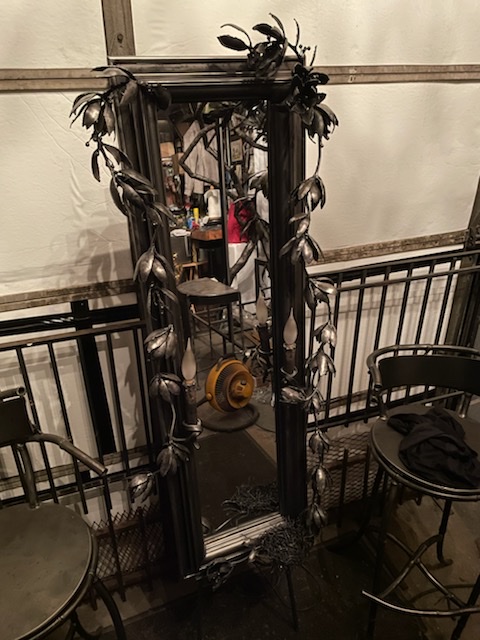 CUSTOM FIRE SCREEN
Made in forged steel. VINES and GRAPE CLUSTERS all hand made in Rockhold's studio! CAST IRON panels New Orleans style.
1600.
40" x 40" x 10" deep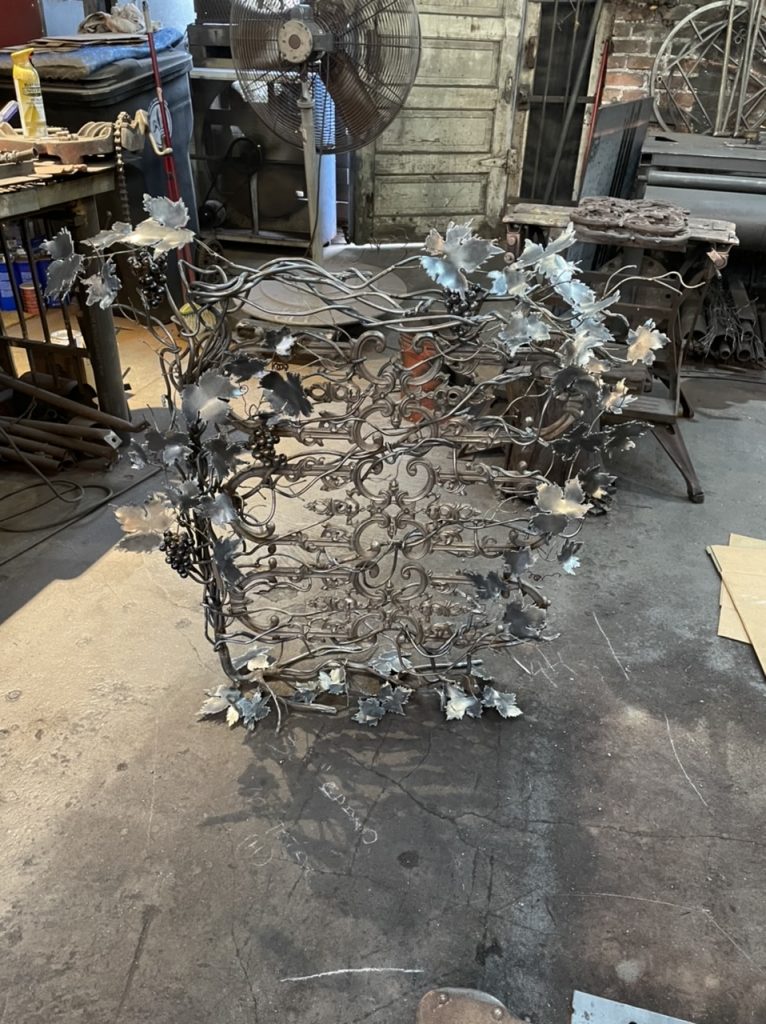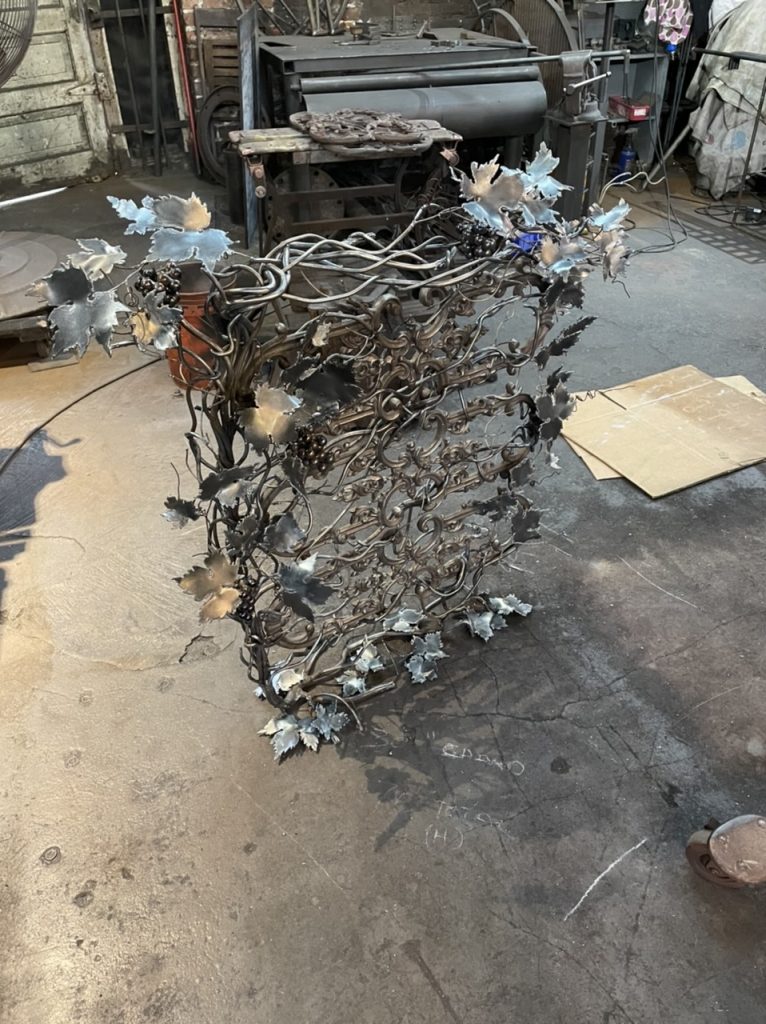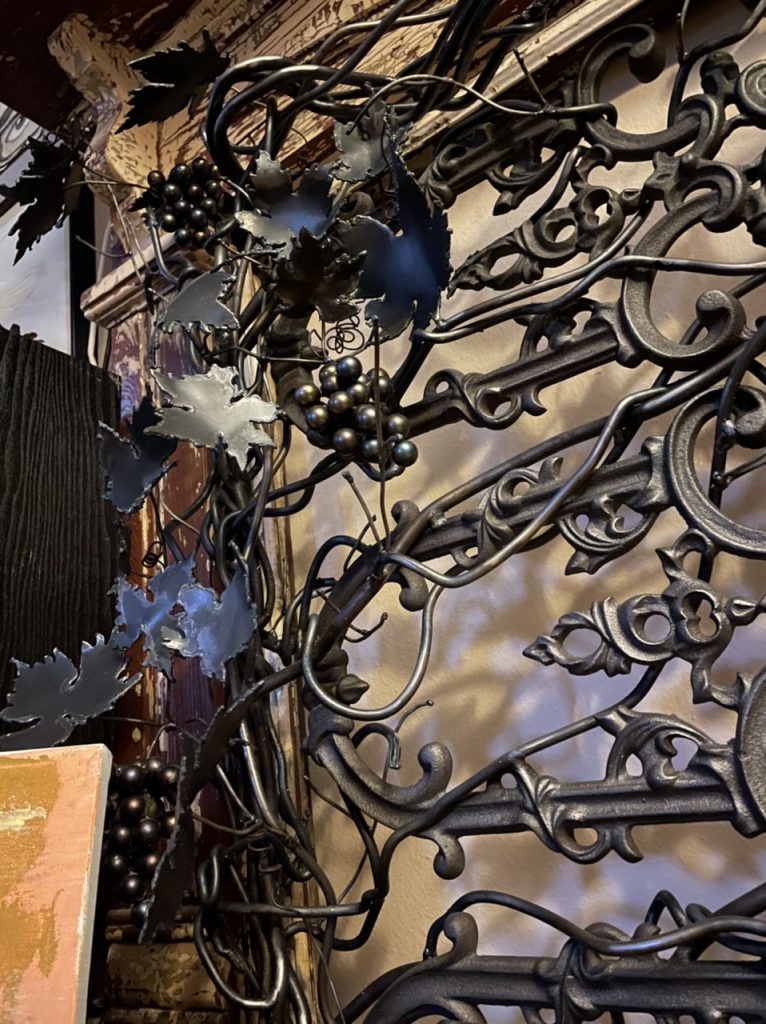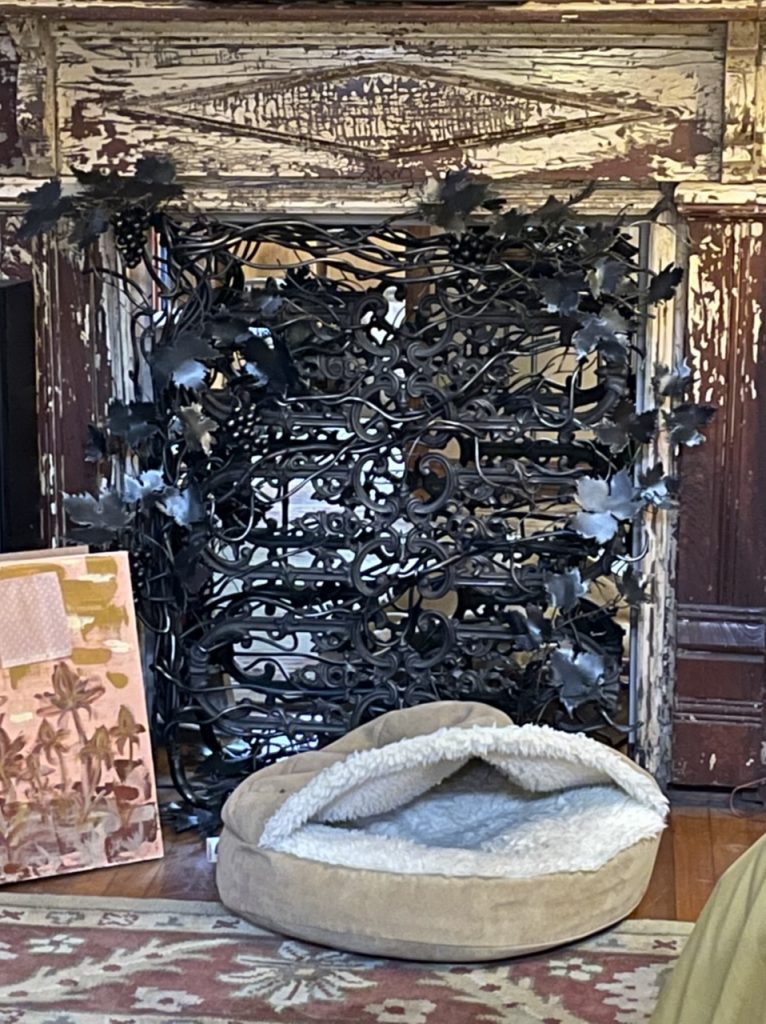 CONSOLE/ENTRY TABLE
Shown in polished steel and silver leaf. Hammered tapered legs with steel top. These come in custom sizes and color.
Shown is 1200. and available for immediate pick up or delivery.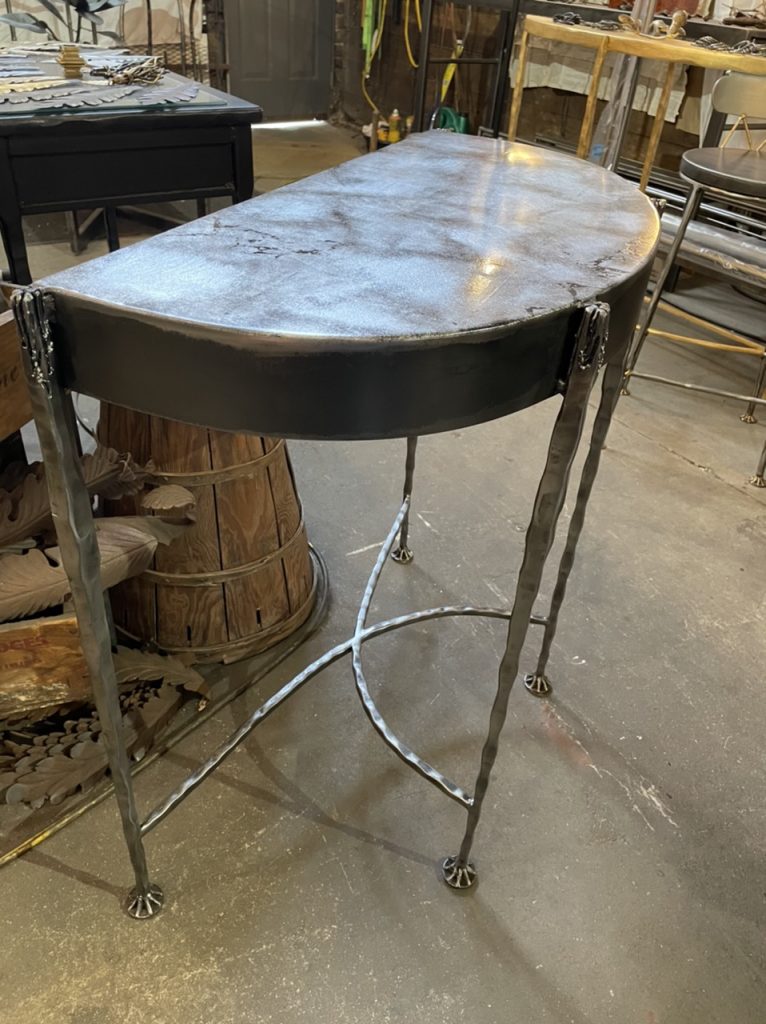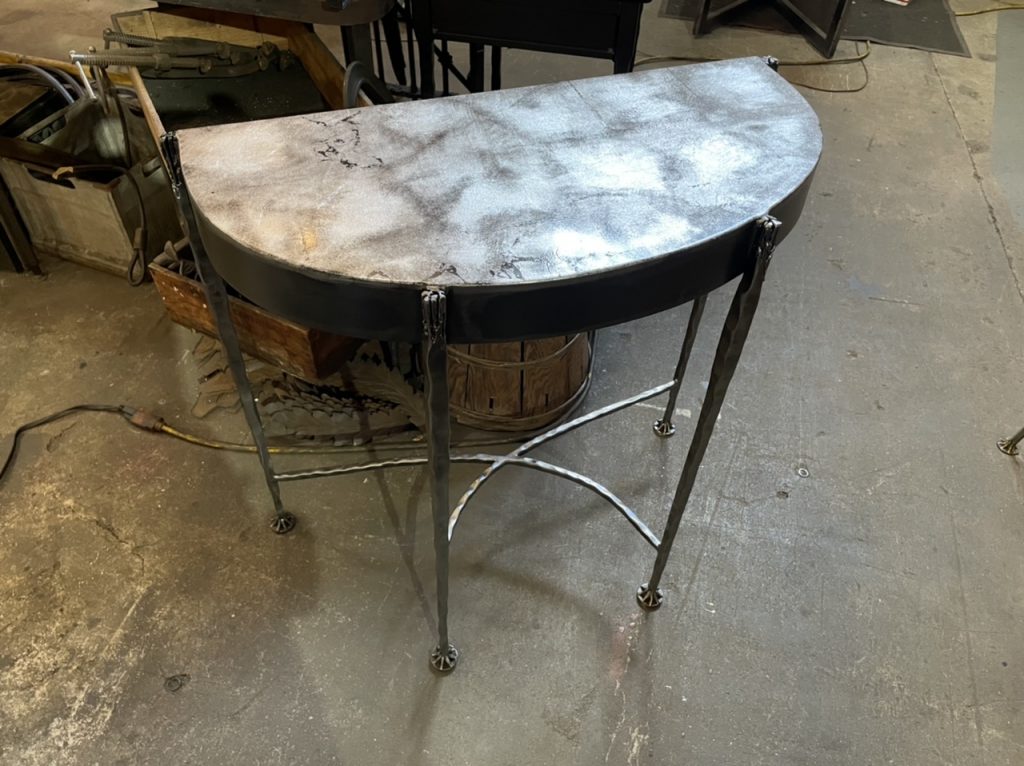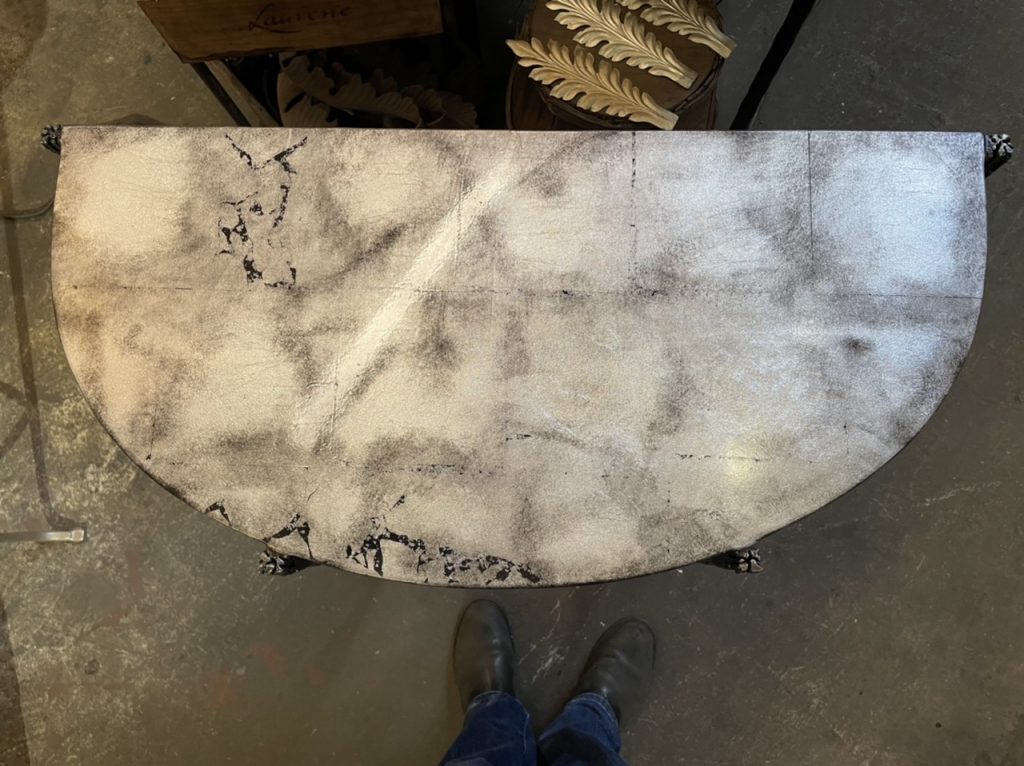 OAK SCONES
Shown below are pretty amazing. The larger sconce has catkins, which are the male flowering oak. Catkins are labor intensive but incredibly beautiful. These are hand forged steel oak leaves Rockhold makes in his studio.
850. Each COLOR/FAUX FINISH OPTIONAL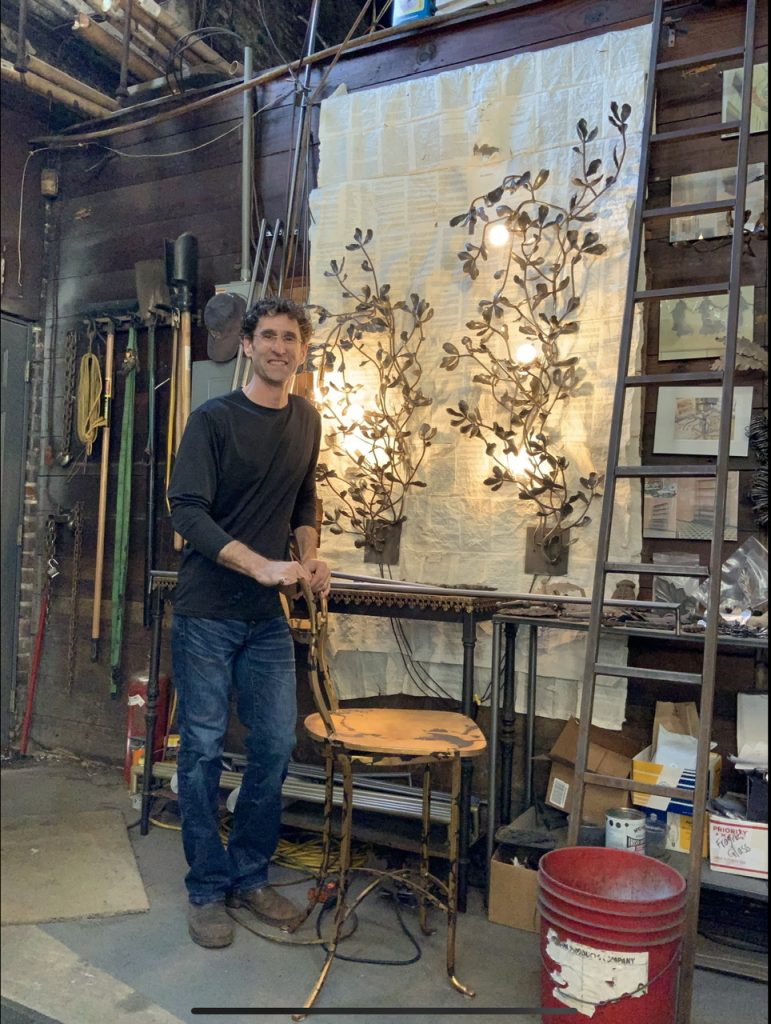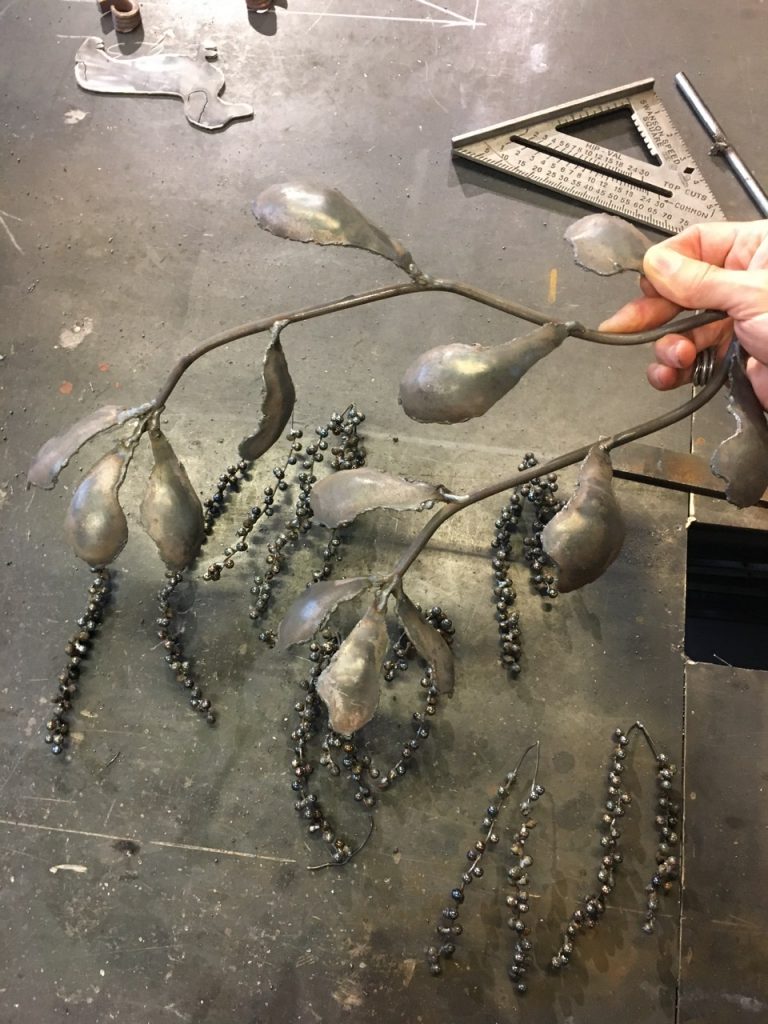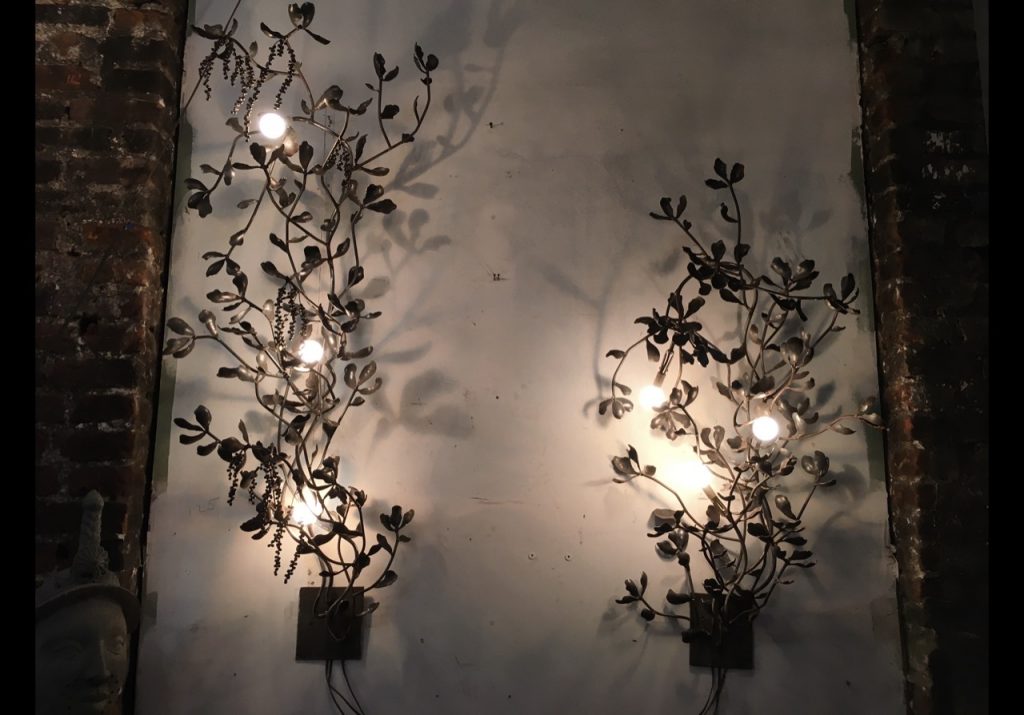 "WIND SWEPT" (shown below)
CUSTOM CHANDELIERS are a big item in New Orleans and custom made is a must.
Shown BELOW is Rockhold's "Wind swept"! Hand forged steel with wood implements. The finish is natural but may be finished to suit you home.
2500. COLOR/FAUX FINISH OPTIONAL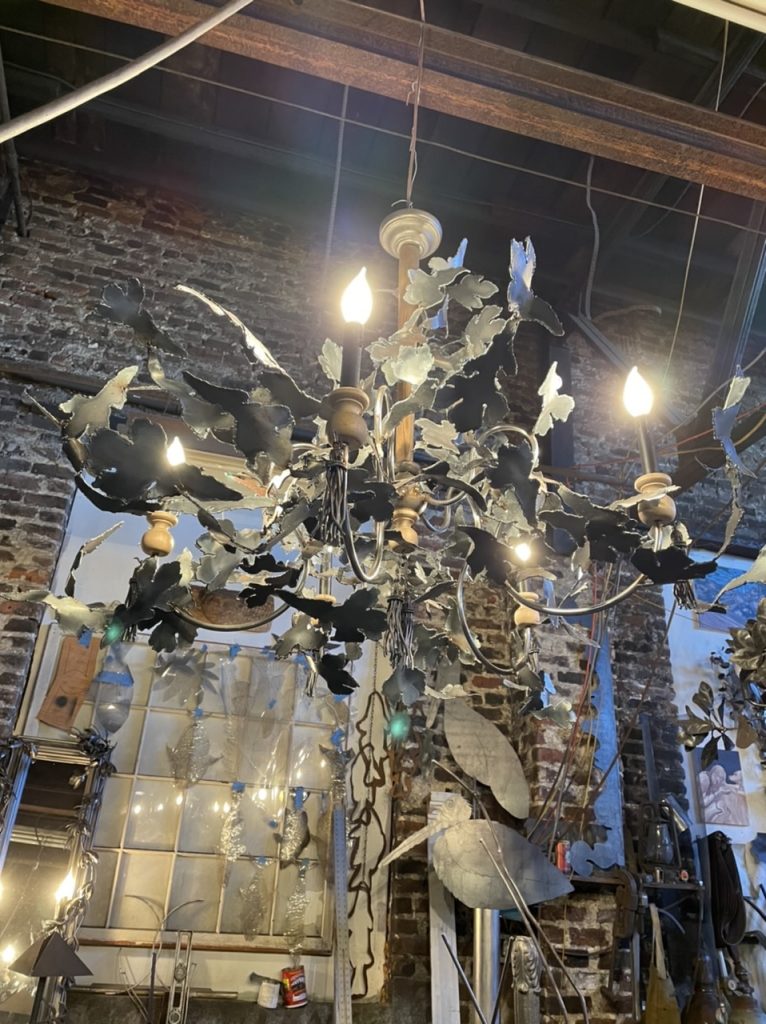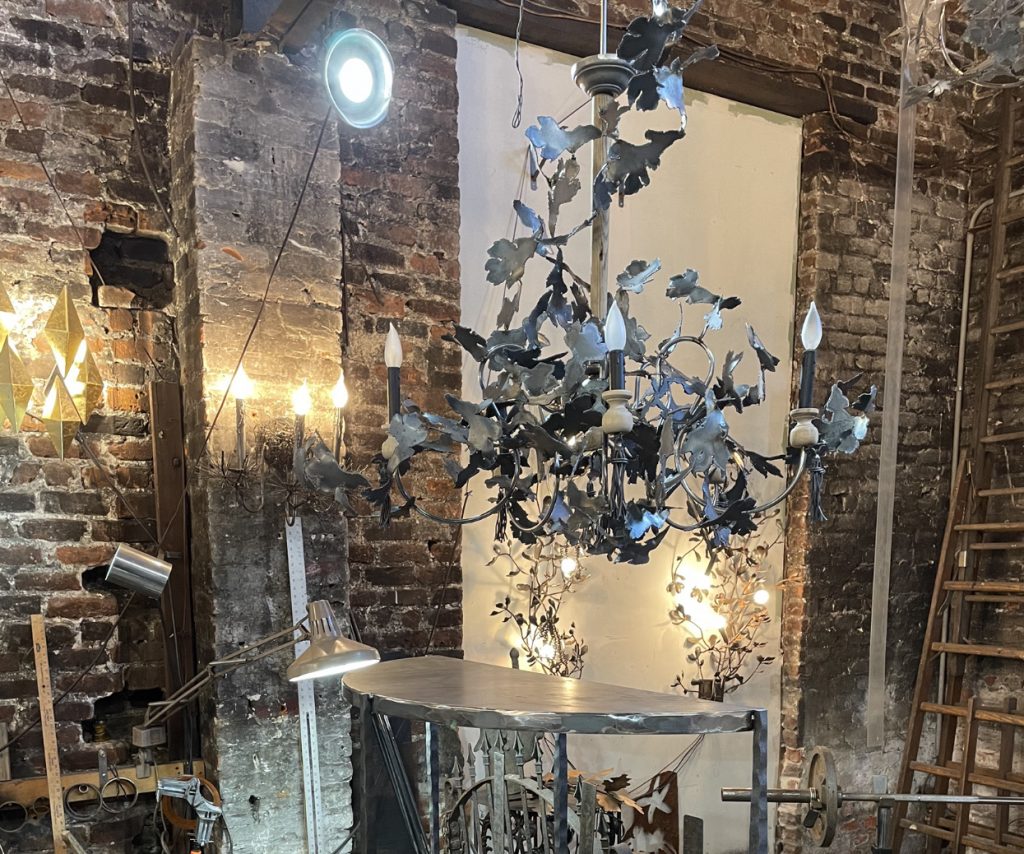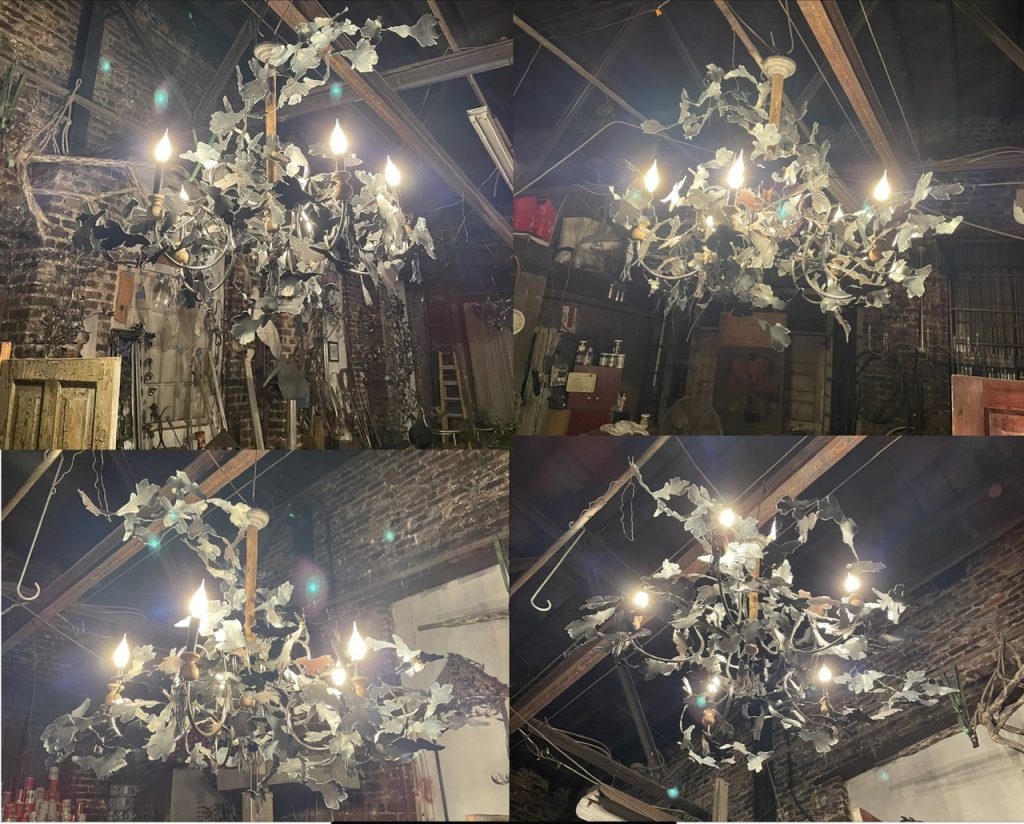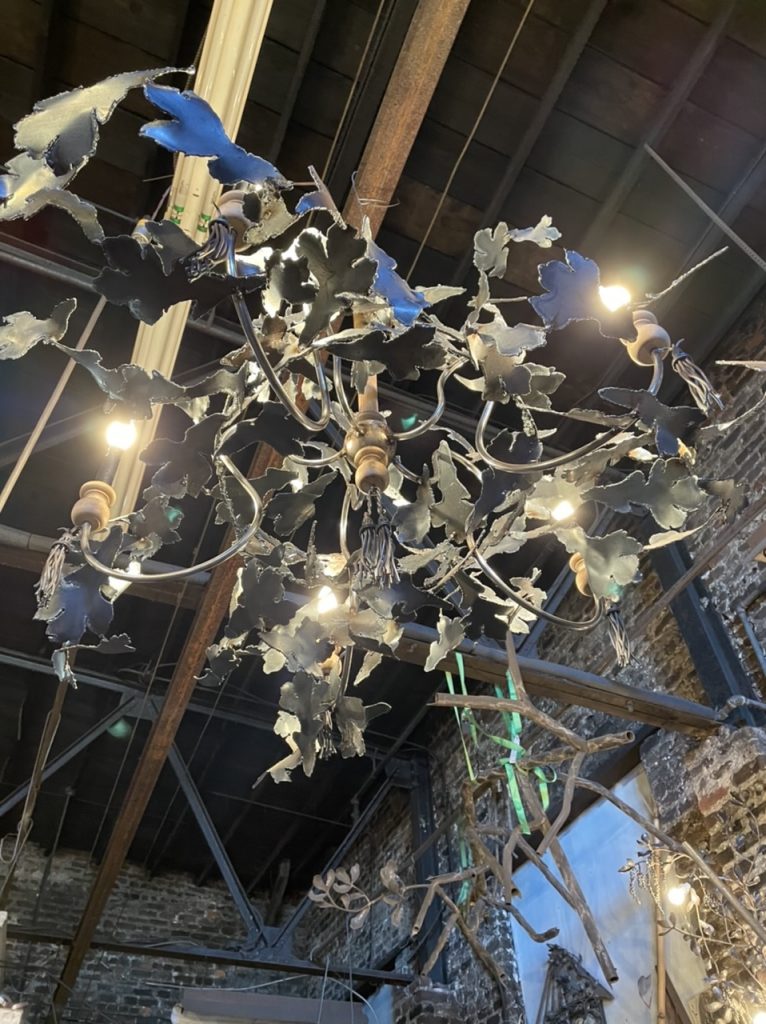 CONSOLE
Shown in gold leaf with raw umber rub. FACETED steel frame and those hammered legs, WOW!
1600. with one in stock.
We can custom make in 30 day turnovers upon request. As with everything custom at Rockhold's colors/finishes are available too.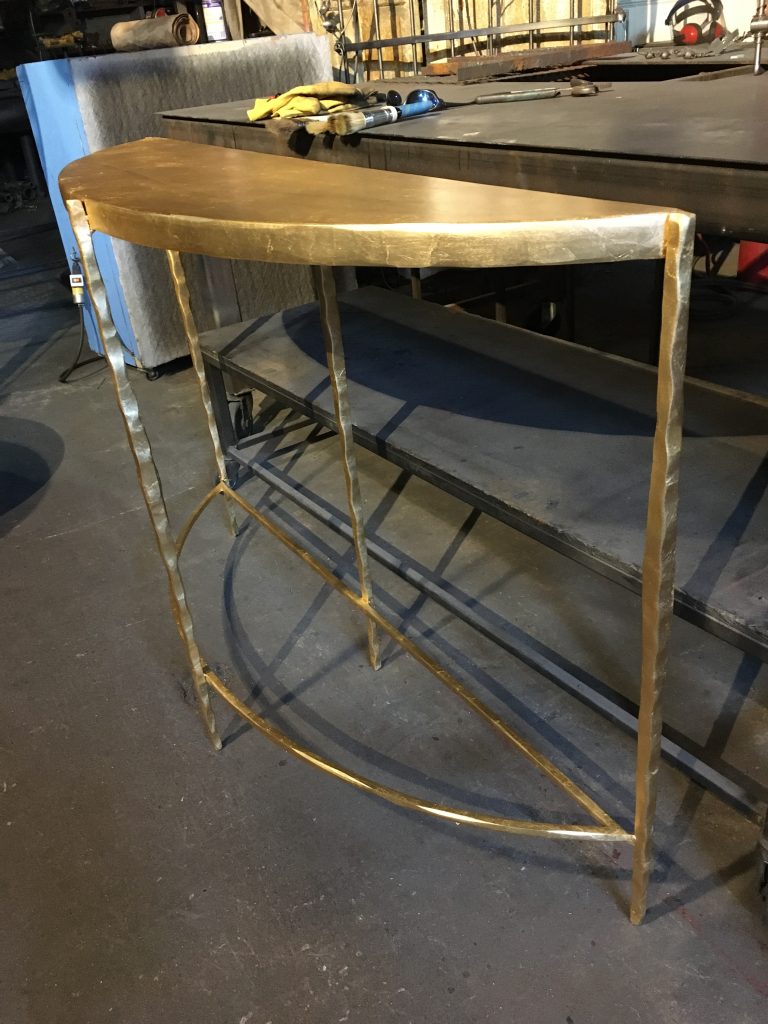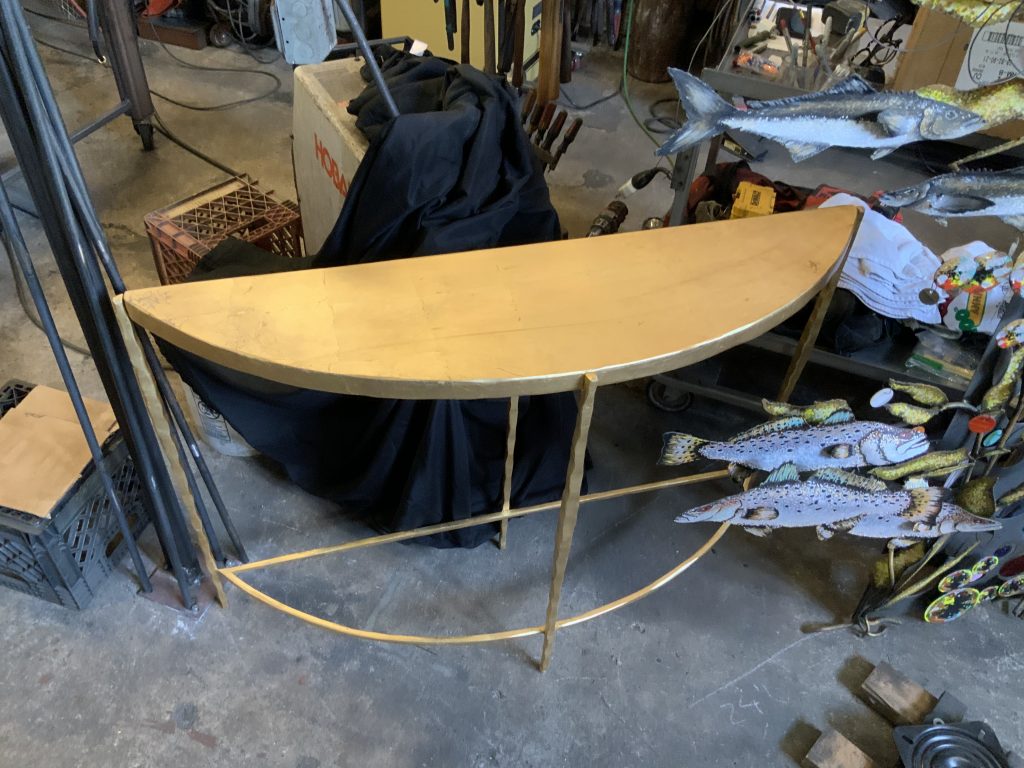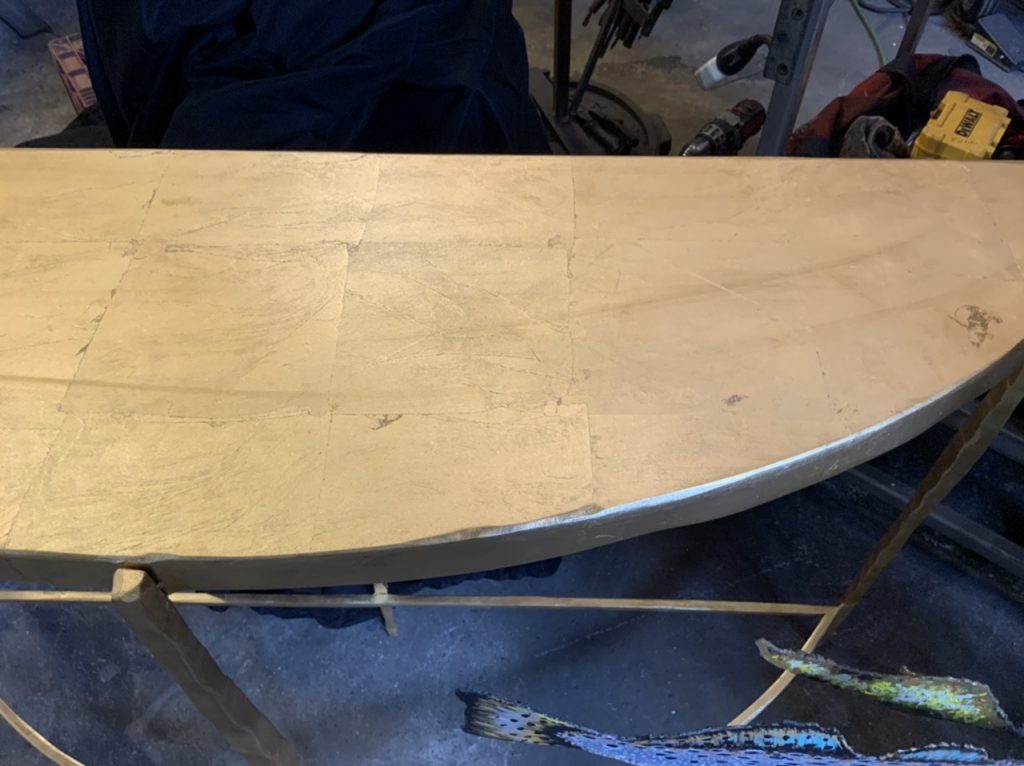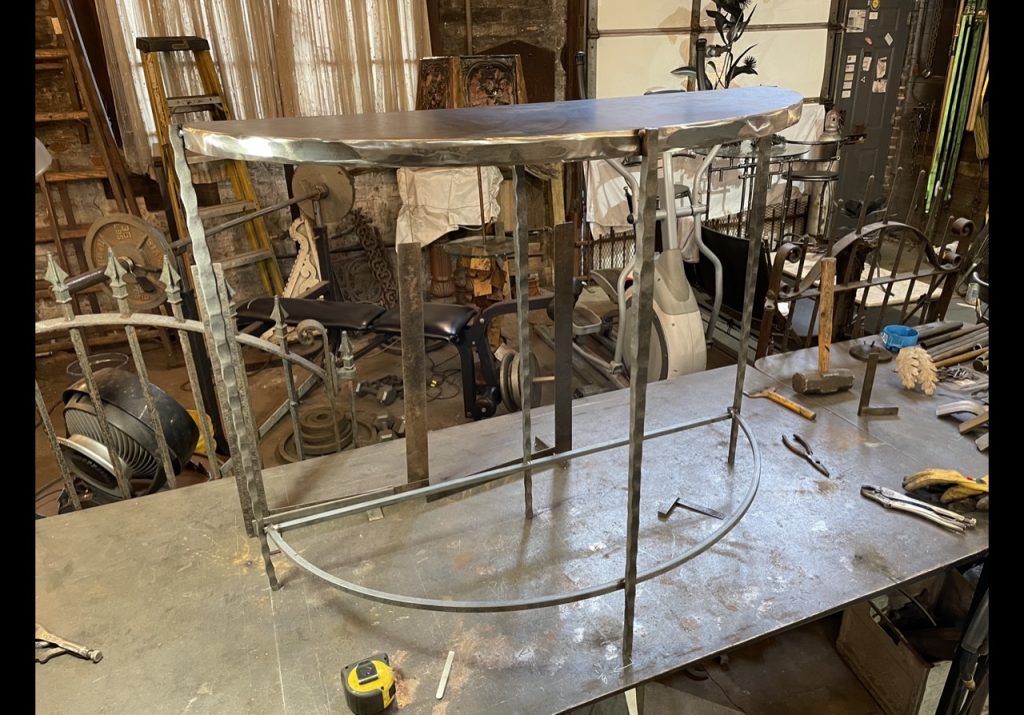 CUSTOM "JULIE" STOOLS
Shown below with swivels in aged copper. These come in any color as well sized to fit your area. Comfy low back and handmade GORGEOUS artisan work from Rockhold's studio.

425. per
CUSTOM COLORS AND SIZES in 30 day turnovers!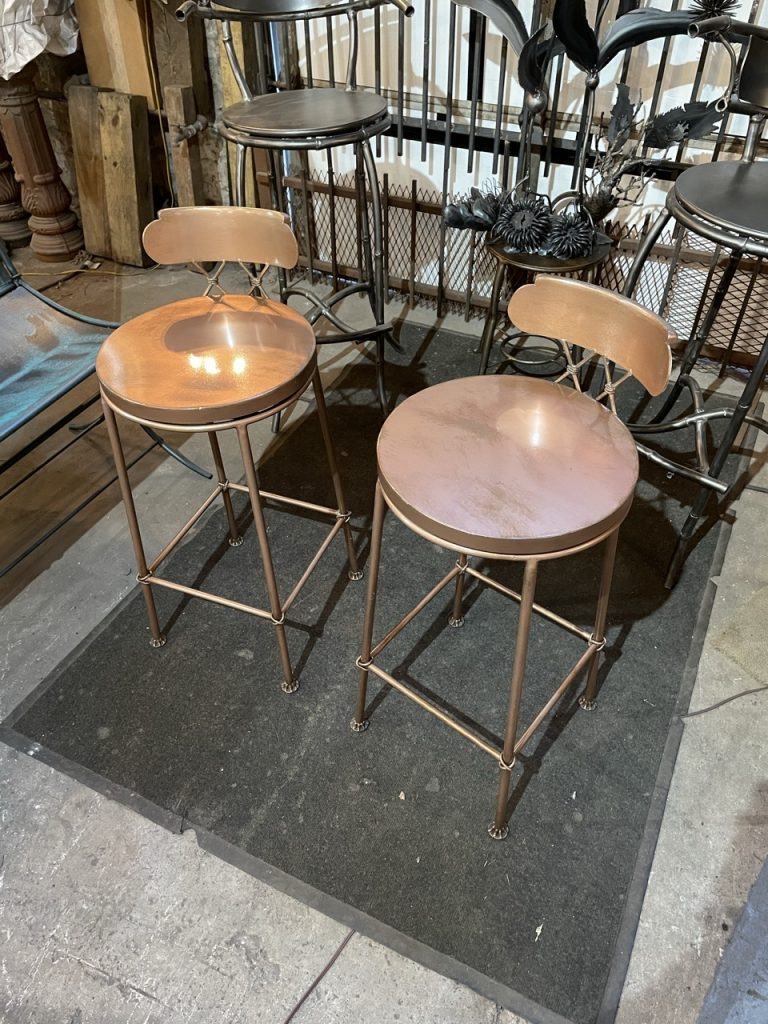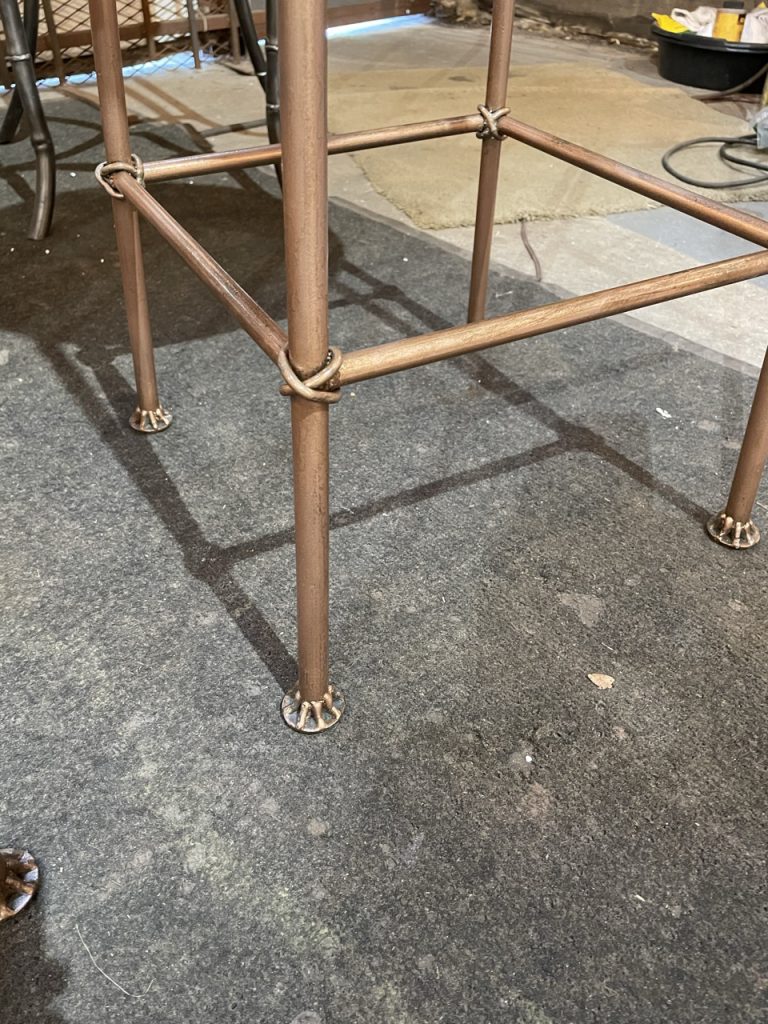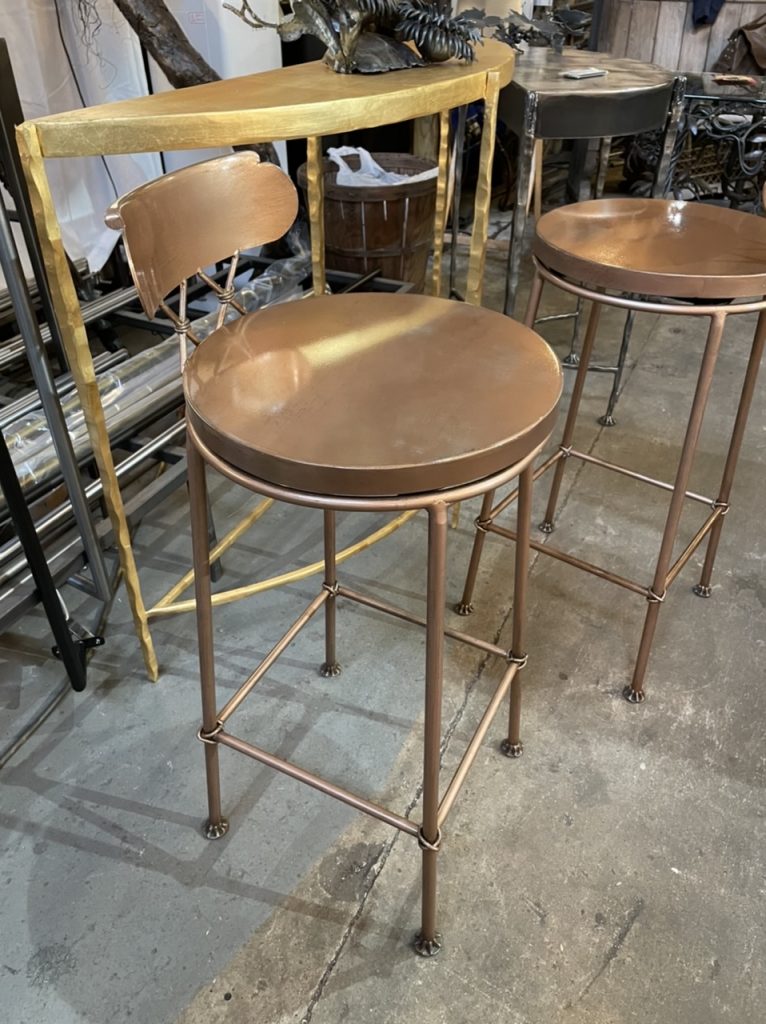 CUSTOM BENCH (outdoor version)
This one is a gorgeous statement for the garden. Drawn out to seat two in the perfect resting spot. Handmade to perfection and a patina finish that is incredible!
2500.
1 in stock for immediate delivery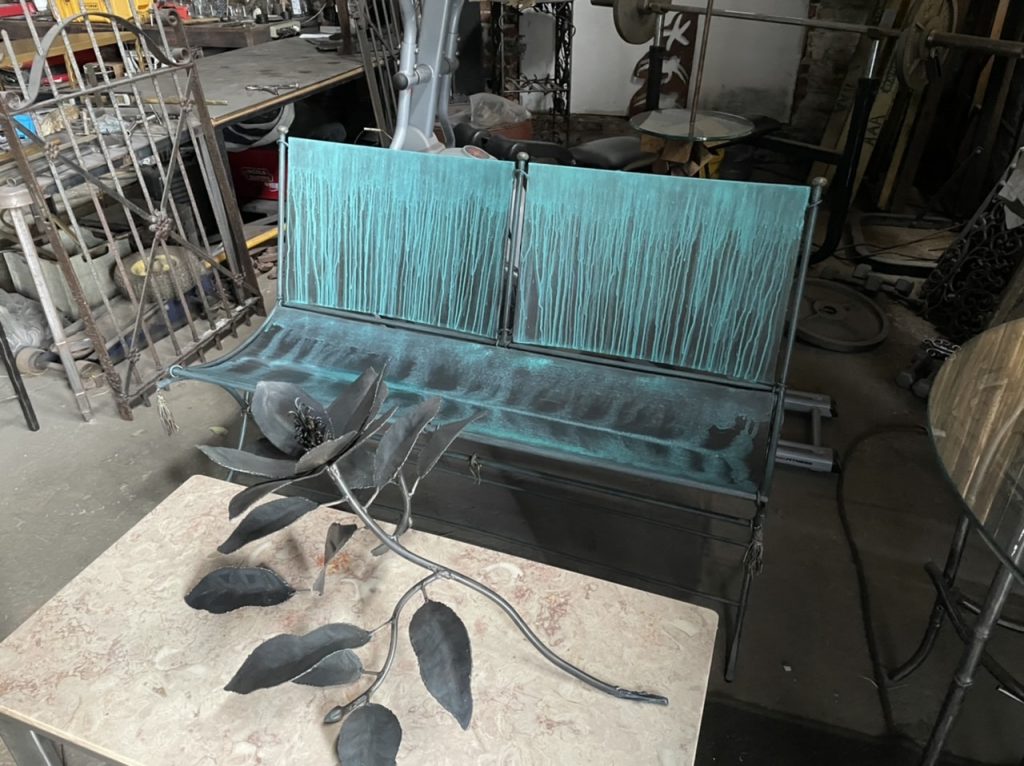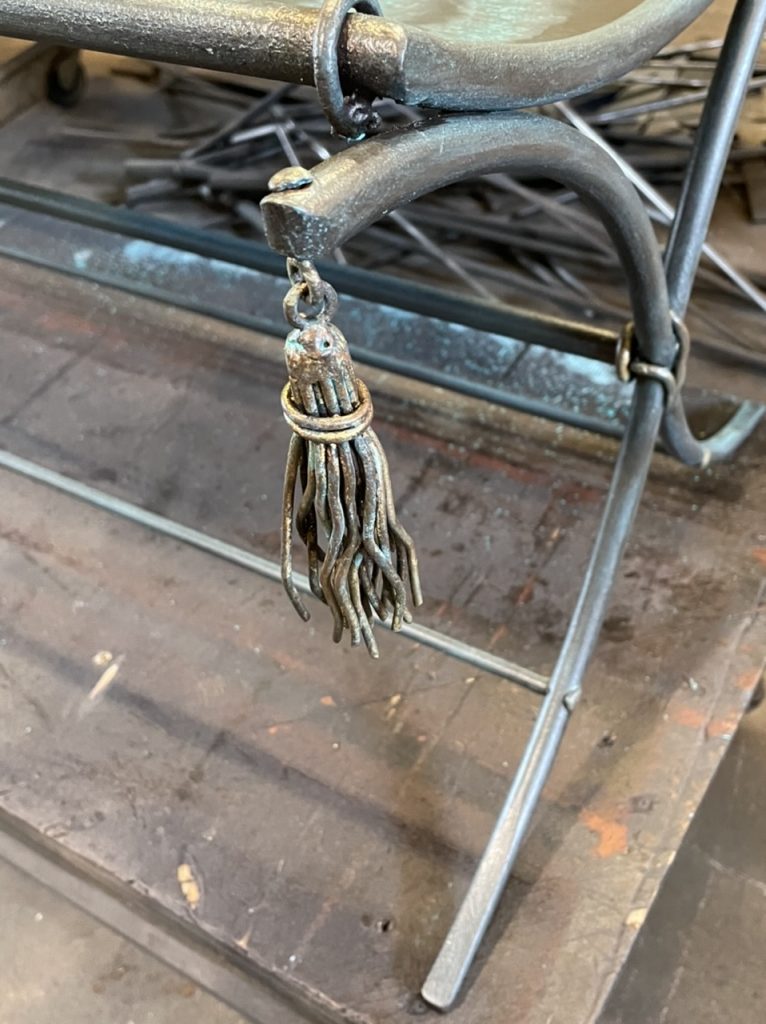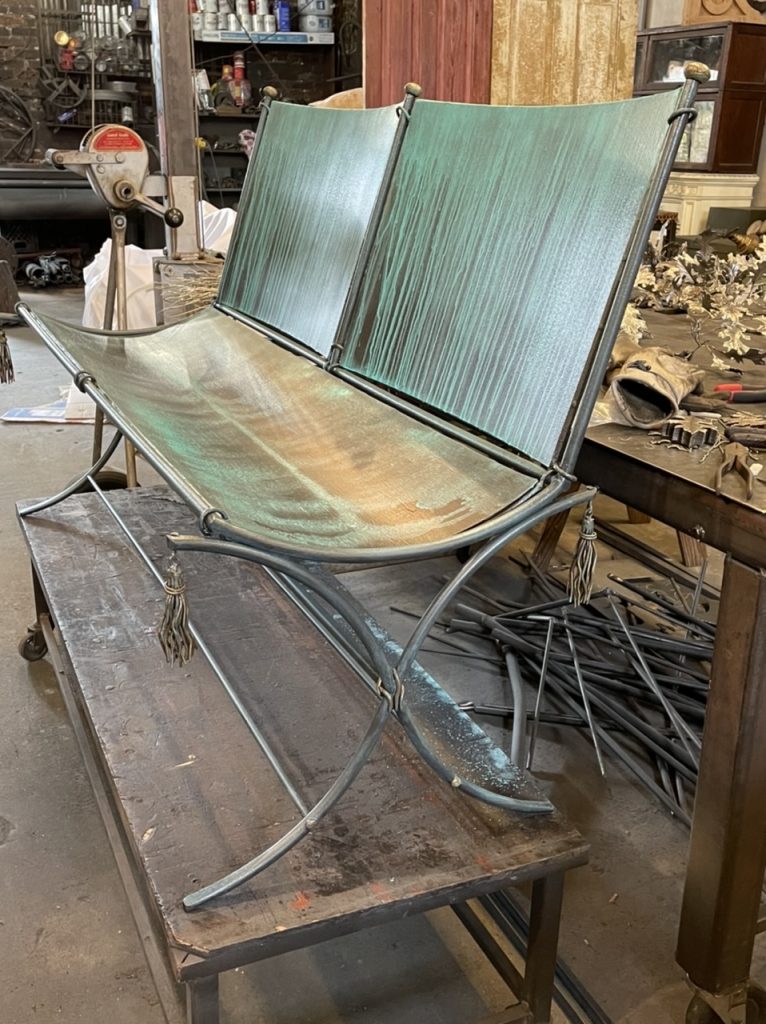 DAYBED "VINEYARD"
Knotted vines and GORGEOUS grape clusters. This is by far the most AMAZING daybed on the market. Hand forged steel sculpture for your home or poolside luxury! Fabulous to sit in as a couch and a dream to lounge on as a bed!
6800.
1 available for immediate delivery. These break down into shipable pieces.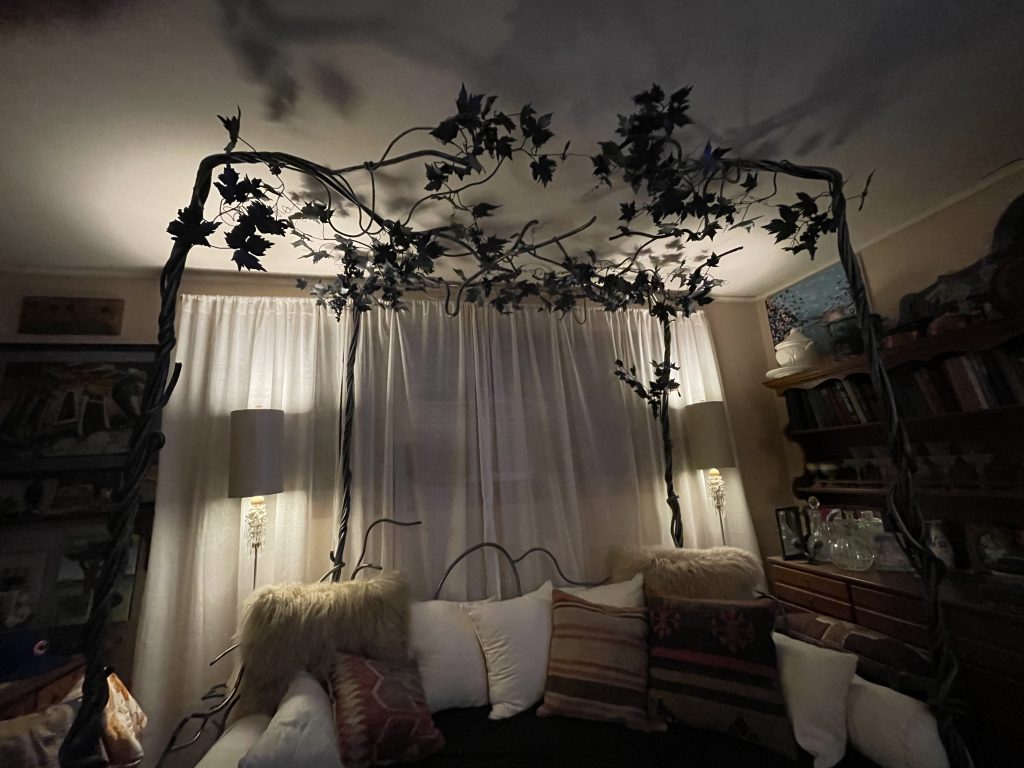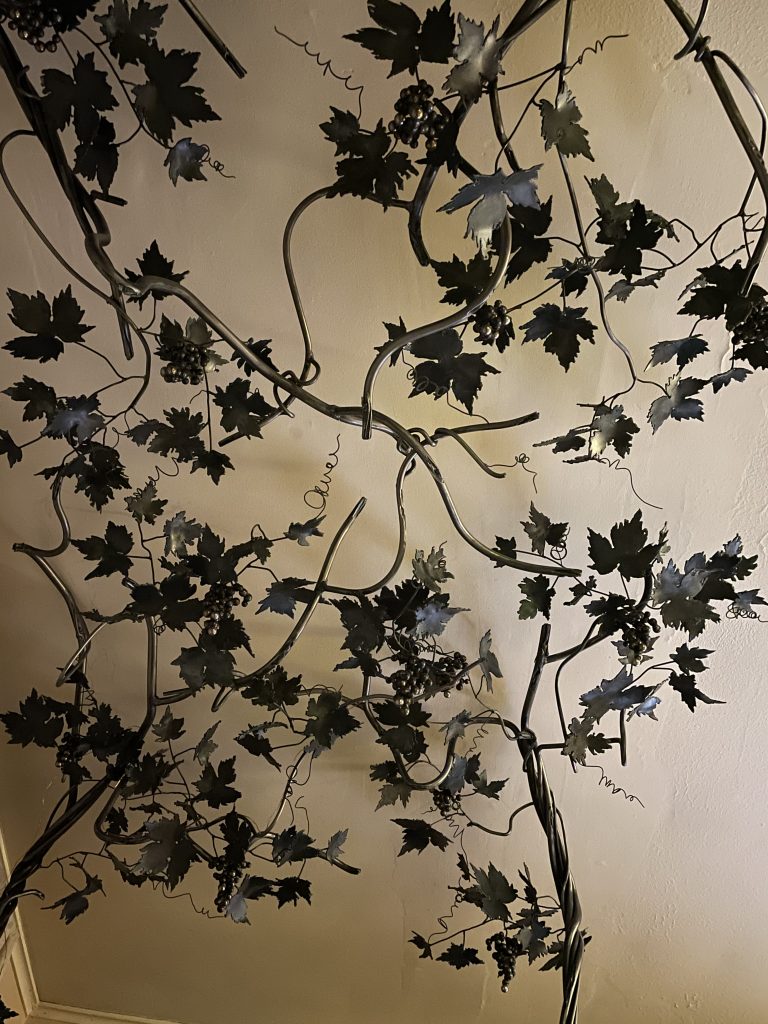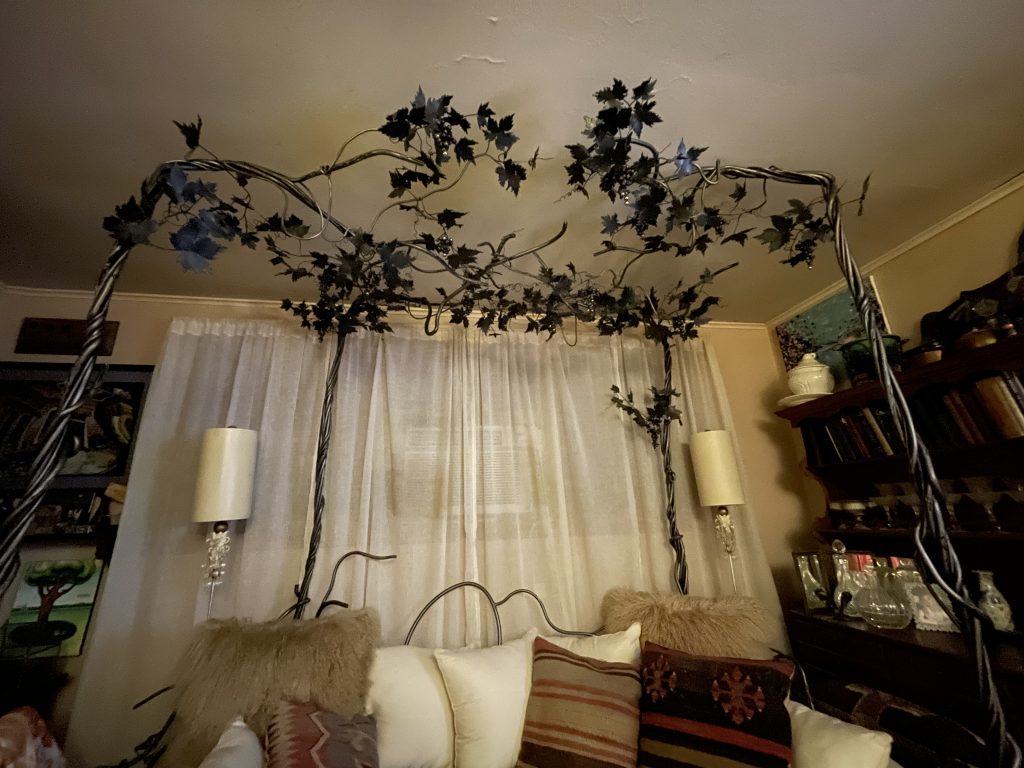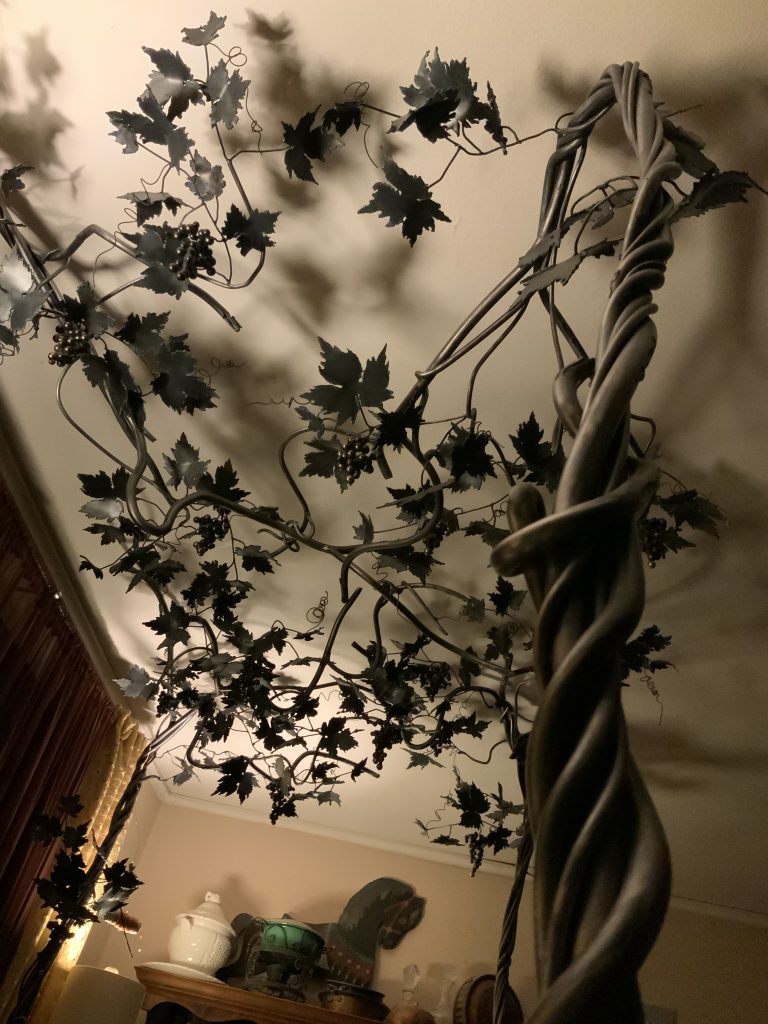 TREE CANOPY in "BLACK OAK" or "LIVE OAK"
These are incredible hand forged works by Rockhold. They can be used as sconce or chandelier. Shown in natural metal finish they remind one of a glorious canopy in the forest. These can be custom sized and faux finished to fit your area.
2100.
4' x 8' x 10" deep shown in black oak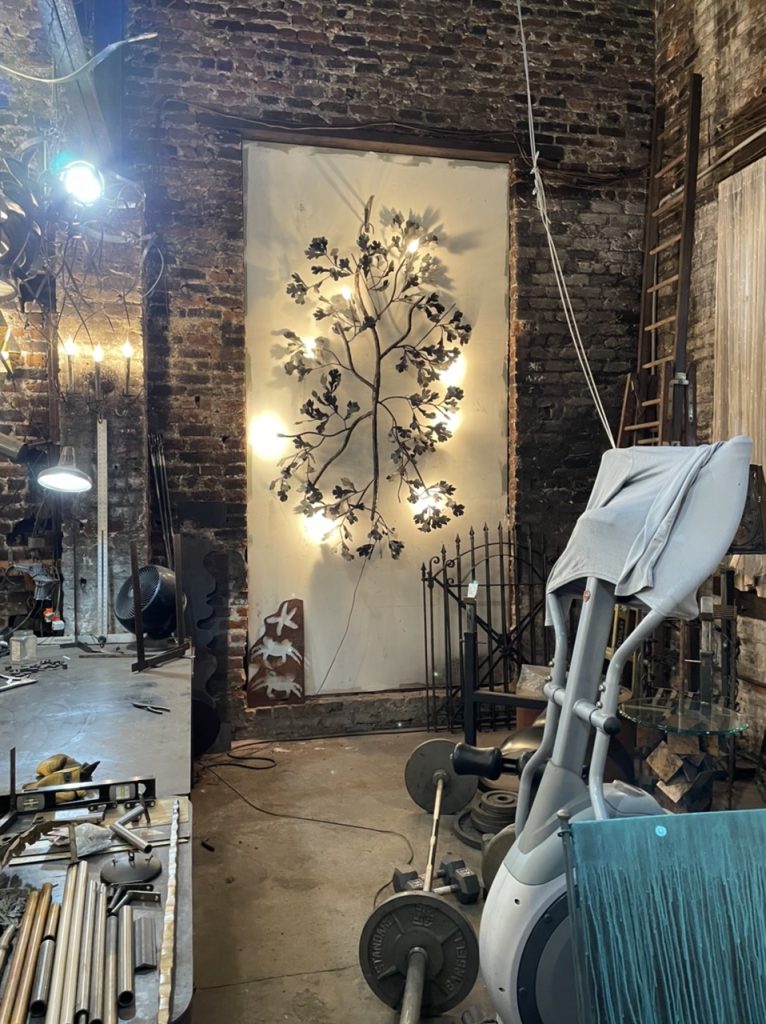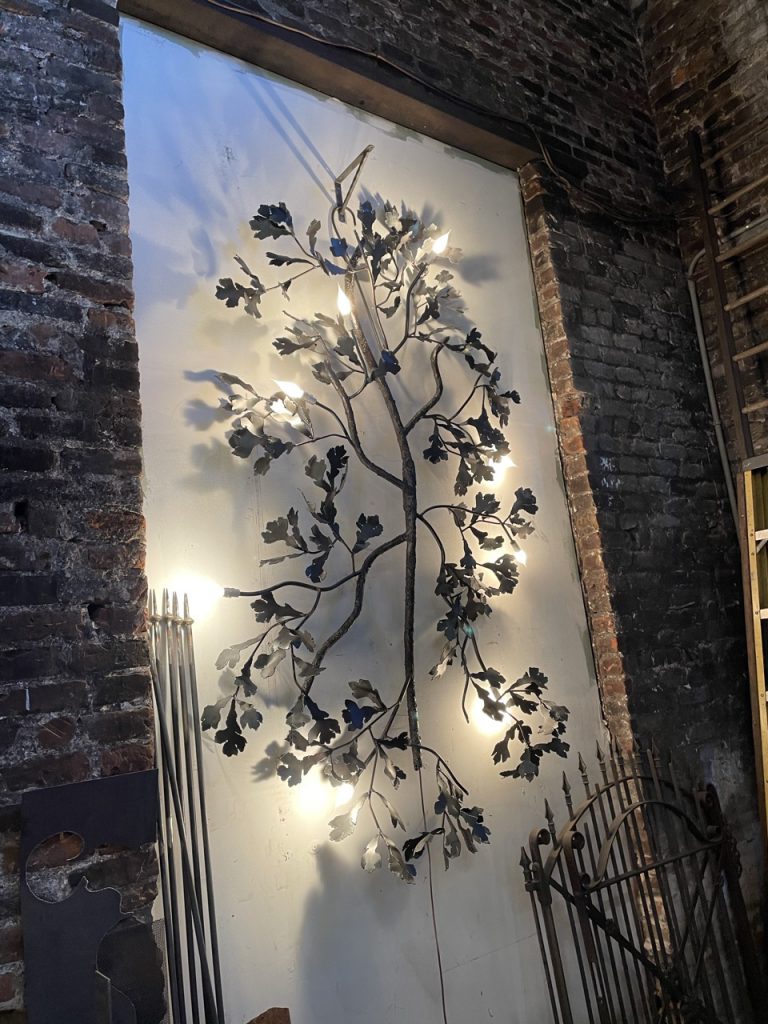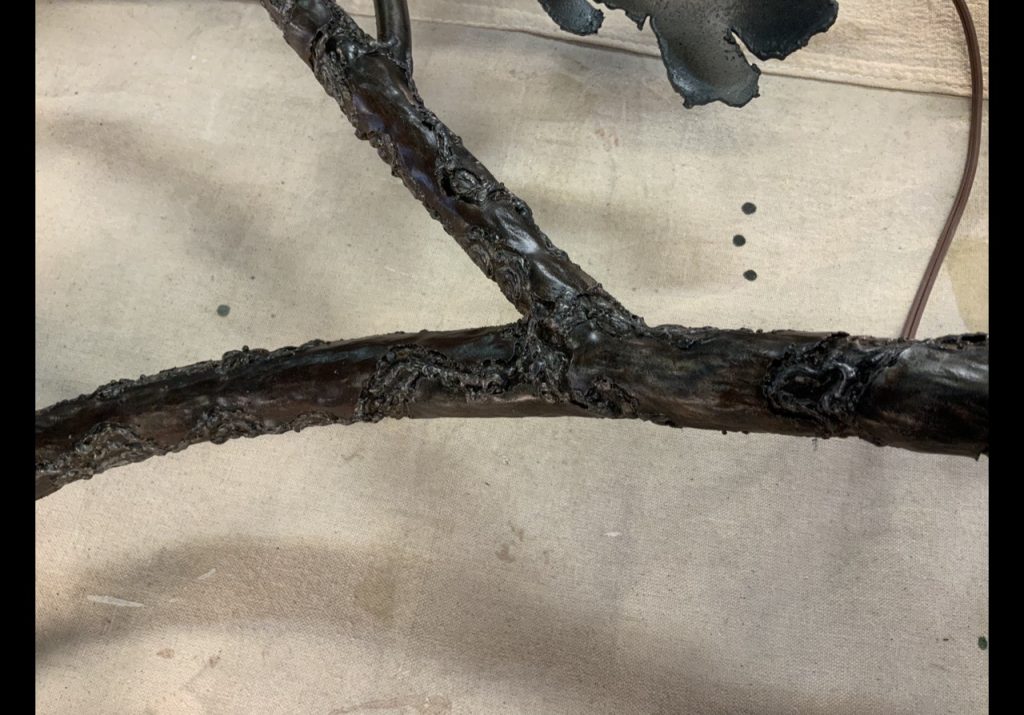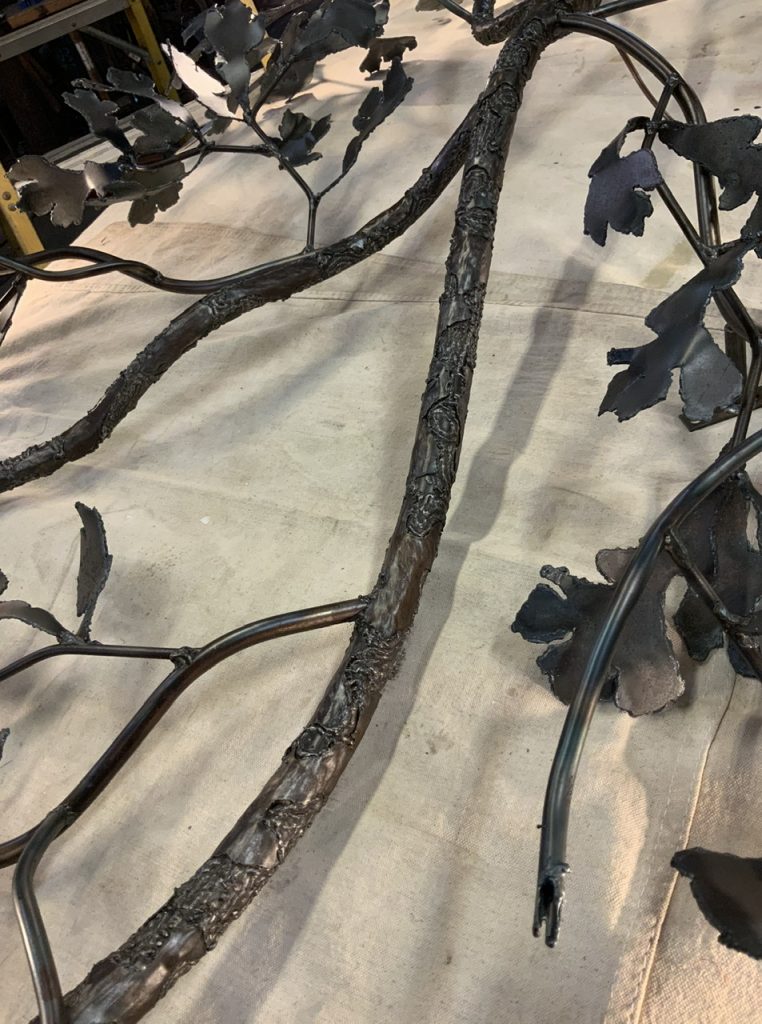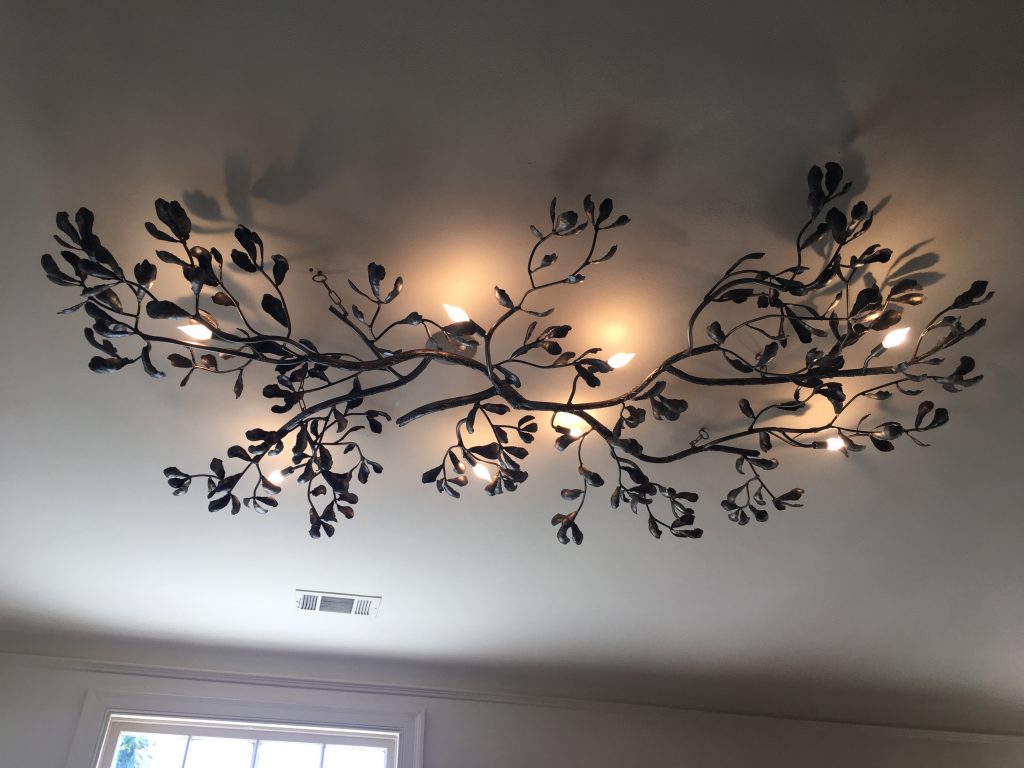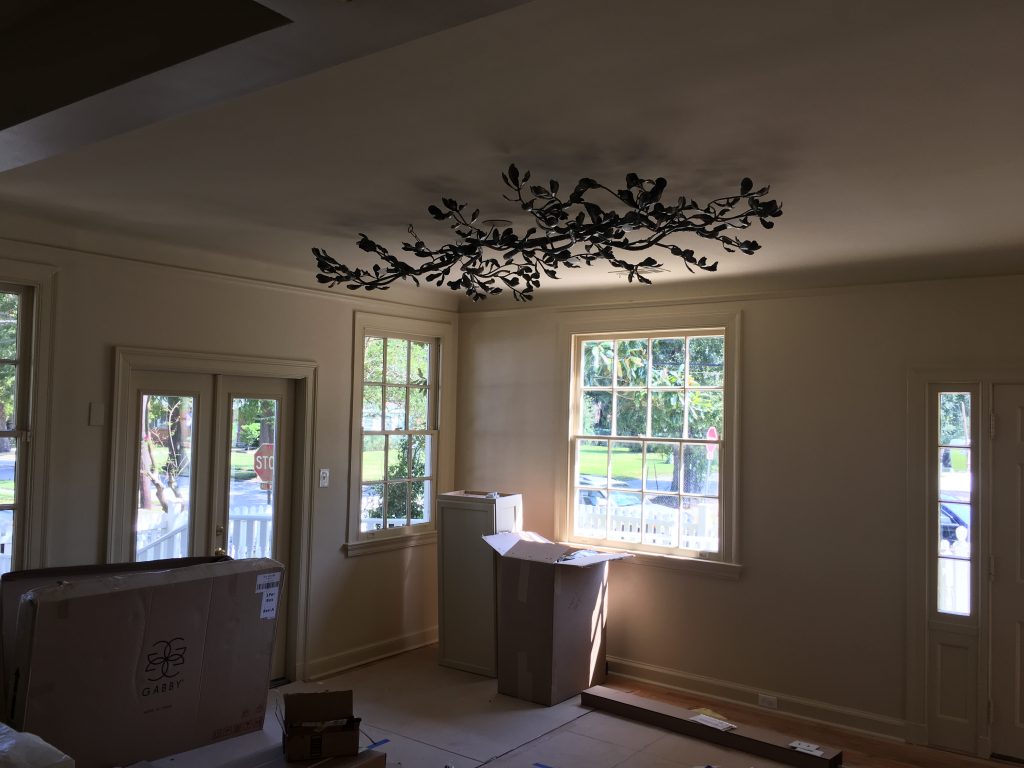 DAYBED "IN THE WIND"
A FABULOUS work by Rockhold and can I say the bark on this one is the BEST! Moving from the bedroom with his amazing tree beds Rockhold sets his sites on the living room for a more 21st century approach to leisure. Relaxing with friends in a sculptural daybed is the shit!
Hand forged steel in true artisan fashion, the hours spent creating this are many. The bark is hand hammered then placed by hand to creat a mosaic. After which the texturing done with the welder is phenomenal SERIOUSLY phenomenal. No better bark than this. Black oak leaves are the canopy and those too are made in Rockhold's studio. Cut from heavy gauge steel each one is drawn out, cut, then shaped by hand while hot. Each one unique from the other. The bed breaks down into many pieces for shipping.
6800.
We have one in stock READY TO GO!