Commisioned works are what Rockhold specializes in.  We have 30 day turnovers and offer all types of basic and high end finishes.  Below is a sample of outstanding design with a hand forged and finish quality the stuns. Top made by local artist/woodworker Josh!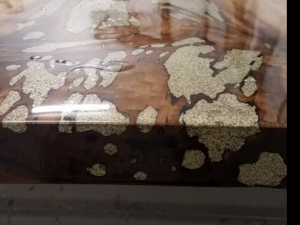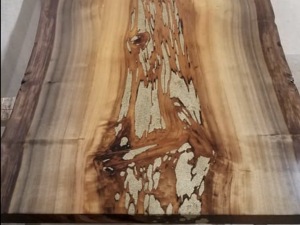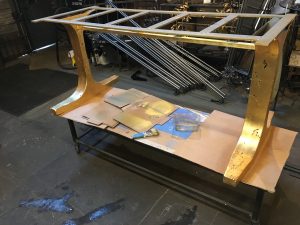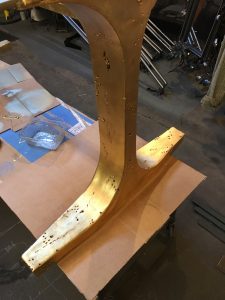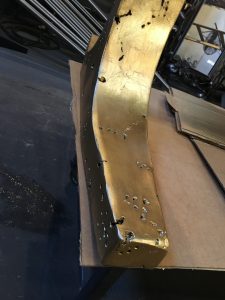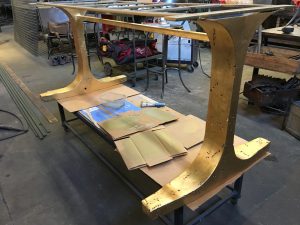 "O'Brien Demilune"  this beautiful cast iron leg table both unique in design and content. Hand made tassels with a steel top.  Rockhold's gorgeous hand done finishes compliments the hand made table.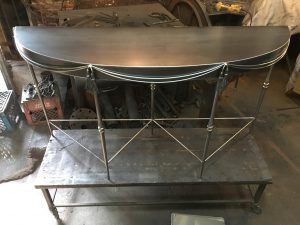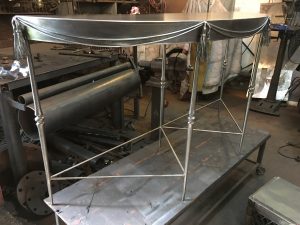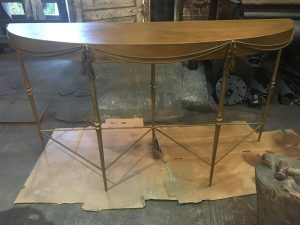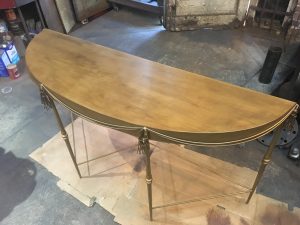 "French Bakers Table"  48" x 16" x 36"  has cast iron legs and steel tops with a Gorgeous filigree edge in stamped steel!  One of Rockhold's faux finishes with gold leaf is just outstanding!!   1800.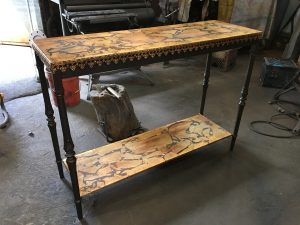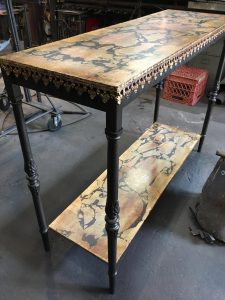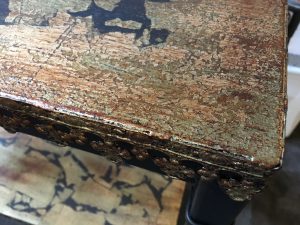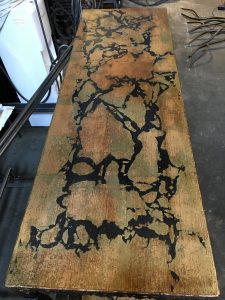 "Old Metairie" Tapered leg with top rail edge in gold leaf umber distressed.  The glass is inset in a oil rubbed bronze with gold leaf accents.  Beautiful original by Rockhold!  1300.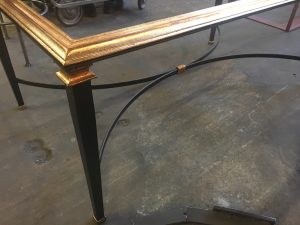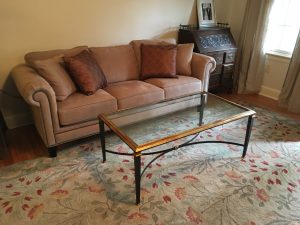 "Hammered" console in polished steel.  Hammered steel legs with a proper taper.  Can be made without steel top for marble ,wood or glass.  Shown in polished steel with matte automotive grade clear, Gorgeous!  950.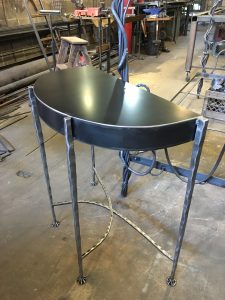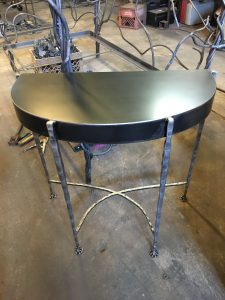 "Tassel" console in gold leaf antiqued.  Custom top in steel made by Rockhold.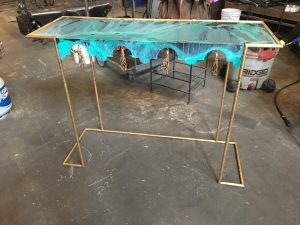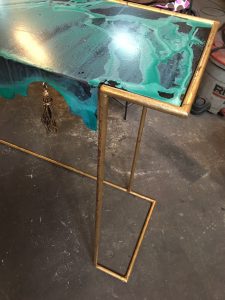 "Houston conference base" will receive a 72" marble top. Made in 1  1/4" steel frame with handmade 5/8" vertical design in polished steel. These are SUPER strong and sturdy.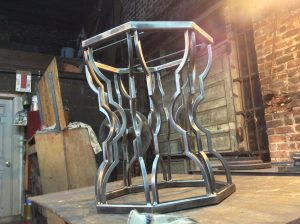 "Canal street" has a bold casting with 3" boarder button detail at the transition.  Polished steel shown.  Note that colors can always be customized on pieces!  1200.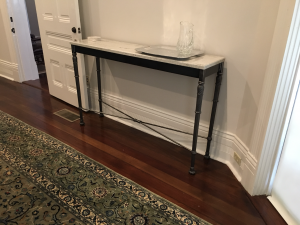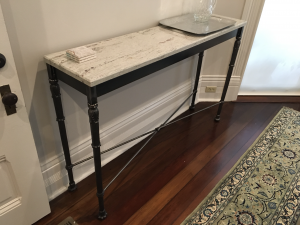 "Mermilliod" desk cast legs 96″ x 32″ x 28″ to receive massive wood top and wood drawers.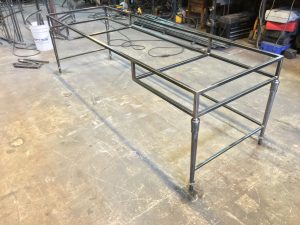 "Brennan's" wine/bistro table in natural steel commercial paint/finish. 32″x 40″ x 34″ base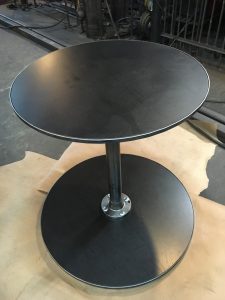 "Carbo" cast leg with grape vine medallion 52″x 15″ x 34″h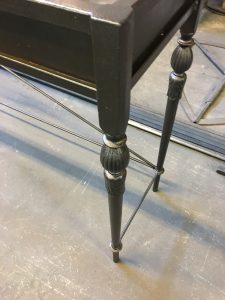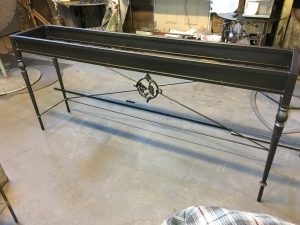 "Tapered" leg table/bench chiseled type 34″ x 18″ x 19″(h)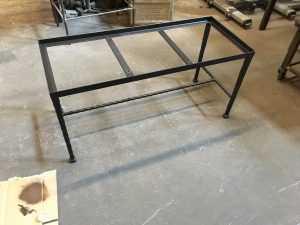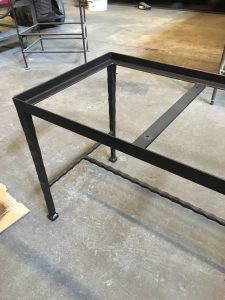 "Cast" leg console 52″ x 16″ x 34″(h) inset for marble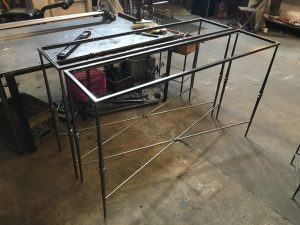 "Tea" table 24″ x 18″(h) cast legs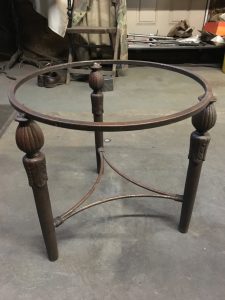 "Taylor" coffee table 45″ x 45″ x 20″(h)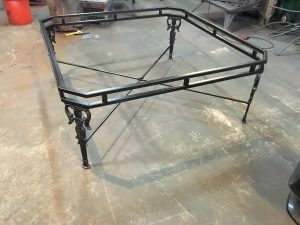 "Banker II" 36″ x 20″ x 28″(h)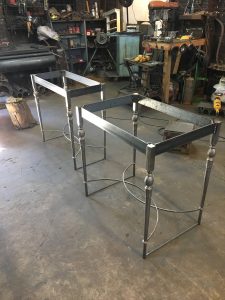 "Tea" cast table 36″ x 24″ x 25″(h)
"Serving" table/console commercial grade with steel tops.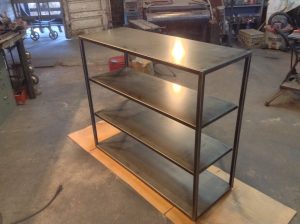 "Bathroom vanity" original designs by Rockhold. 24" x 24" x  32"(h)